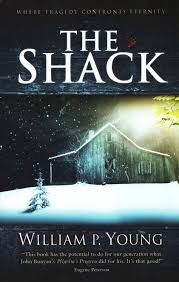 The Shack, by William P. Young, has lately acheived a high level of publicity.  It is a self-published novel (yeah!) about a father who receives a letter from God inviting him to the shack where his young daughter was murdered several years earlier. 
Very high concept.  Very intriguing premise. 
The first part of the book reads like a crime novel.  The stage is set, the crime is committed, it's over.  The second part of the novel deals with the main character's healing through a weekend spent at the shack with God. 
God, in the novel, is not who you think.  William Young immediately attempts to shatter all of your preconceived notions about the persona of God.  You won't find an old, white man in flowing robes.  And this was the first time the book annoyed me. 
Let me say that I'm a pretty hard-core Catholic, so my review will be slanted.  That's just the way it is.  But the persona of God (the Father, Son and Holy Sprirt) reeked of polical correctness.  Then came some touchy-feely theology that really turned me off.  I kept going, though, because I had been recommended this book, and I have a real need to finish books that others recommend to me.
Then came the judgement scene in the cave.  I can't get into too much detail without revealing important things, but that scene changed things for me.  It got me onboard.  It changed the way I thought about the nature of judgement and forgiveness in a very profound way. 
The rest of the book had some very interesting points to consider.  It certainly grew on me as the novel progressed.  I'm glad I read it.  It gave me some new ideas, and I would love to discuss the novel with others who have finished reading it. 
I've found a lot of differing reviews on The Shack online.  Here's a negative review.  Here's an answer to the negative reviews.
My best advice is to read the book for yourself and decide.  Even if you disagree with everything in it, it will get you thinking.  And isn't that the point?